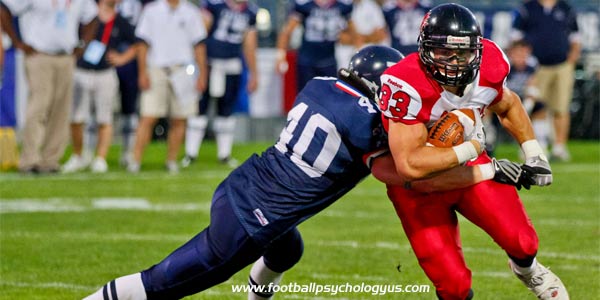 How to Be Mentally Prepared for Competition
Are you ready to compete when your number is called?
How have you prepared to be on top of your game when the opportunity arises?
It is one thing to be ready to play the game when put into the lineup, but being prepared to compete requires a whole new level of preparation.
You can practice… You can work on your technique… You can refine your mechanics… You can condition your body, but does that mean you prepared to compete when your number is called?
If you never compete in practice it would be foolish to think you can flip the switch and suddenly compete when you are thrown into a game.
When you are thrown into a football game without being mentally prepared to compete, you will feel anxious and be overwhelmed by the moment. You will question your ability to perform successfully. Your doubts and negative thoughts will predominate your mind and interfere with your ability to immerse yourself in your athletic contest.
Competing requires that you compete in practice. When you compete in practice, you are conditioning your body and your mind to go for it. You are developing the habit of competing and being ready for anything.
Paying attention to building a competitive mindset gives you the confidence to be on top of your game when it's time to compete.
New England Patriots quarterback Brian Hoyer has honed his competitive mindset since he entered the NFL in 2009.
Hoyer has played for seven NFL teams: New England Patriots, Arizona Cardinals, Cleveland Browns, Houston Texans, Chicago Bears, San Francisco 49ers and Indianapolis Colts. Even though Hoyer has been in the league for 11 seasons, he has appeared in only 69 games with only 38 starts during career.
On short notice, Hoyer will be making a rare start for the New England Patriots due to quarterback Cam Newton being ruled out since he is not ready to compete because of COVID-19.
To prepare for a game, Hoyer stated that he always competes, from preseason through the last game of the season.
HOYER: "For me, you're still competing every day you go out. Regardless of what the sport is, it's always a competition. For me, it doesn't matter if there's 15 guys in the room, I'm always competing. When Tom [Brady] was here, I was always competing for the starting job, too. Now, I was probably never going to get that, but I always competed like I was going to try to beat him out. That's the only thing I could do to try to make myself better."
When you have competed all year long, in every training session and practice, you will feel mentally prepared to rise to the occasion and be your best no matter the athletic situation.
How to Develop a Strong Competitive Mindset:
Ask yourself, "What are the competitive qualities that contribute to success in football?"
How can you develop these qualities and mental skills? Your goal should be to compete in every practice, every training session, every scrimmage, and every drill.
The more you compete, the more you ingrain that competitive mindset within you and reap its benefits.