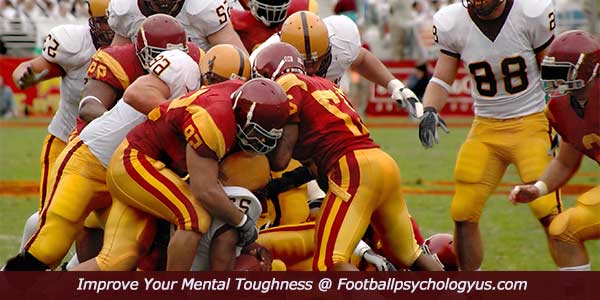 How Football Players can Mentally Prepare to Come Off the Bench
Have you ever been suddenly subbed into a football game due to a teammate being injured? Did you feel prepared and ready to go or nervous and fearful?
Some football players feel being put into a game from the bench is like being thrown to the lions.
Going from little playing time to a starting role can be overwhelming. One minute you are on the sidelines watching the game, and the next minute the coach calls your number and you are in the heat of battle.
You feel totally caught off guard. You think, "There is a reason why I am on the bench. I barely made the team. How am I going to replace one of our top players?"
You feel your heart pound. Expectations seem high. You don't want to let your team down. You fear your teammates have no faith in you and have mentally resigned themselves to losing. The pressure just seems too much.
The unexpected change does not have to be overwhelming if you are prepared to go into the game at any time.
Being prepared for unexpectedly going into the game is referred to as the "Next Athlete Up Mentality." Having the "Next Athlete Up Mentality" requires that you practice and prepare with a purpose.
When you practice, you can't go through the motions believing you are the least likely player to see action. You should prepare for your big moment. You can build trust in your teammates.
Even in practice, you should push yourself to the max so that you are confident that you will be prepared to contribute when called upon. That is the "Next Athlete Up Mentality."
During games when you're on the bench, you can't think of yourself as a spectator watching the game. You can still be an active participant on the sidelines. You should mentally stay alert by paying attention to the play calls during the game. That is using the "Next Athlete Up Mentality."
To have a "NEXT Athlete Up Mentality" you need to be:
–Ready to go at any instant
–Prepared for the unexpected
–Have your head in the game at all times
–Compete in practice as if you were a starter
–Visualize your role on the field
You don't have to be the hero when you are called to compete. Just stay focused and understand your role.
For example, Dallas Cowboys rookie quarterback Ben DiNucci, a seventh-round draft pick, made his first start of his career against divisional rival the Philadelphia Eagles.
Dallas's first-string quarterback was out for the season with a broken right ankle and the team's backup was ruled out of the game with a concussion.
DiNucci's "Next Man Up Mentality" helped him remain calm and confident, even though his NFL experience was limited to only three passes in his career.
Still, DiNucci was able to remain confident, calling upon all of his football experience throughout his career.
DiNUCCI: "I'm just being me. Being a quarterback, you've got to have a little something to you. You've got to have confidence. You've got to have a leader whether you're a veteran in your 15th year or a rookie about to make your first start. I've just got to go in there and be the same guy that I've always been, whether it's letting these guys hear my voice inflection when in the huddle. If I sound confident, these guys are going to know they can trust me when I'm out there. I'm just one of 11."
The message from DiNucci is clear: Just go play. Compete as you have in the past. Don't worry about all the if's and just be you.
How to Mentally Prepare to Come Off the Bench:
If you play offense, keep your head in the game each play. How would you run each play call if you were in the game? See yourself running the play as if you were in the game.
Study the defense for tendencies. See how they are approaching down and distance situations.
Keep your intensity up so you don't go into the game "sleeping." Be ready to go into the game every play.