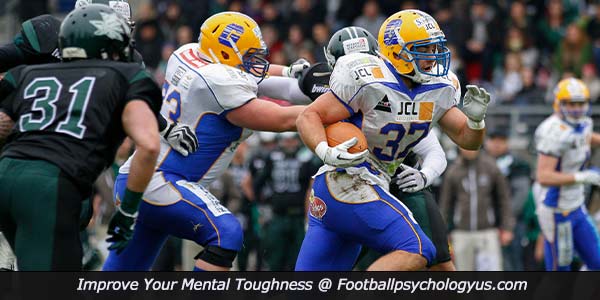 Stay Focused on Performing Your Best
Misses, wobbles, falls, errors and slips: What do these have in common? The common thread is that these missteps, mishaps and mistakes are a part of all sports.
No matter how hard you try to avoid them, mistakes will happen during competitions.
Even the best athletes in the world are not immune to mistakes:
Pro tennis players hit unforced errors late in matches.
MLB baseball players strike out with runners in scoring position.
WNBA and NBA basketball players miss shots late in close games.
PGA and LPGA golfers miss 5-foot putts that lead to double or triple bogeys.
Elite gymnasts step out of bounds and miss sticking their landings in big competitions.
And in football, just because you make a mistake doesn't mean you are not talented, always choke or can't "win."
Having the expectation that you should never make mistakes is the biggest mistake of all. You want to accept that mistakes are a part of the game. Perfection does not exist in football or any part of life.
When you have the faulty assumption that you need to be perfect, you magnify the negative impact a mistake has on your performance.
Perfectionism is counter-productive to peak performance.
When you are a football player with a perfectionist mindset, you become fearful of making mistakes. Your fear creates anxiety that pulls your focus away from what you should do and causes you to focus on what you should not do.
You compete cautiously (hesitant to make a throw), play it safe (pass up scoring opportunities) or avoid taking risks (play not to lose).
The perfectionist mindset or fear of making mistakes is how slumps and performance ruts develop.
Kansas City Chiefs kicker Harrison Butker has established himself as one of the premier players in the NFL.
In 2017, Butker set a record for most points by a rookie kicker. In the early part of the 2020 season, Butker has struggled making extra points, converting on only 19 of 24 chances through seven games.
Even though Butker has made some mistakes, he has maintained his same approach to his game: focusing on being the best kicker he can be instead of trying to be perfect.
BUTKER: "Whether it's 2017 and I'm going on that streak or now when I'm missing some extra points, every day I'd like to think I'm working just as hard to get better and be the best kicker I can be… It's only a failure if you don't learn from it and you don't improve it."
Butker's approach is a highly effective method to avoid the perfectionist mindset and focus on being the best athlete you can be every day.
Peak performance is the result of hard work and improvement.
How to Avoid the Perfectionist Mindset:
Begin questioning any ideas you have about the need to be perfect. Does it work for you in competition?
Break down how perfectionism has hurt your performance: high expectations, easily frustrated with mistakes, stuck in a practice mindset, etc. How do these help you?
Use an improvement mindset or "growth" mindset, which can help you feel less pressure to be perfect by learning from mistakes and loses.
And give yourself the luxury of making mistakes during competition so you can move on without the monkey on your back.