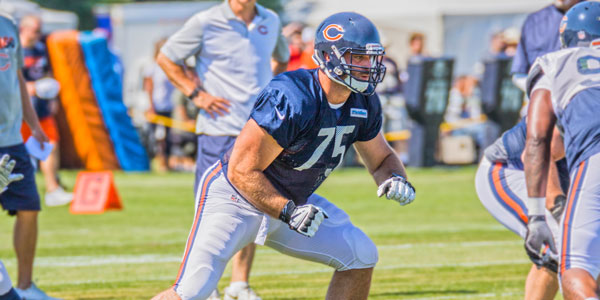 Mindset Recondition after Long Game Layoff
How quickly are you able to shake off the rust after a long layoff from playing football?
After an injury, long layoffs, or an inactive offseason, you need time to shake off the rust, get back in game shape, and get back your feel and speed of the game.
It would be unreasonable to think you could pick up right where you left off. You need repetition to sharpen your physical skills, drills to regain your explosiveness, and conditioning to build up your endurance.
For those reasons, many players participate in vigorous off-season training regimens to prevent physical skills from declining. Injured athletes will aggressively rehab an injury through physical therapy to maintain some degree of strength and flexibility.
When you are physically active during long layoffs, you need less time to get into shape.
So why does peak physical conditioning not always translate to peak performance after a long layoff from football?
Getting into physical playing shape is a small component of peak performance. You also need to be in condition mentally. Getting mentally prepared to compete is more challenging than physical readiness after a significant time of inactivity.
The following illustration highlights the need for mental and physical conditioning after a long layoff. Don S., a collegiate quarterback from D-II, sprained his ankle the last game of his sophomore year.
The sprain was not too severe, so Don quickly rehabbed both ankles stronger than before the injury. Don attended an offseason conditioning camp and was in the best shape he had ever been.
Don felt strong, quick on his feet, and agile, but his physical readiness did not translate to optimal play. During the first three weeks of training camp, Don rushed his throws and continuously overthrew receivers. Don was ready physically, but not mentally.
Mentally, Don was anxious and distracted. Don had difficulty reading the field, focusing on his target, and making quick decisions. If you are not tending to your mental game along with your physical conditioning, you will require more time to become game-ready.
Cincinnati Bengals' top 2021 first-round draft pick (No.5 overall) wide receiver Ja'Marr Chase struggled in preseason catching the ball. Chase caught just one of five targets during preseason action.
Chase showed some signs of rust in his first NFL preseason after opting out of the 2020 NCAA football season due to the COVID restrictions.
"I would just say it's a lack of concentration. That's all it was," Chase said. "If you look back at it, I jumped in the air when the ball got to me. My eyes weren't concentrating on the ball… I don't want to blame it on me sitting on my butt the whole year, but it probably has something to do with it, of course."
Off-season training conditioned Chase's body, but Chase still needed more time to sharpen his mental skills, mainly focusing.
Former Cincinnati wide receiver T.J. Houshmandzadeh, who has the fourth-most catches in Bengals history, feels Chase will work out the kinks early in the season if he just relaxes and improves his focus.
HOUSHMANDZADEH: "[Chase will] have more chances to get more catches and think positively instead of having negative thoughts. When you're anxious, you don't have your hands in the right position."
Both mental and physical conditioning is needed to help you get into playing shape quickly after long layoffs. will mental conditioning, you will get the most out of your physical preparation.'
Mental Conditioning Tip
Let's get right to the heart of the matter. Neglecting to condition your mind is the biggest obstacle to peak performance. Your game is only as strong as your weakest link…
How much time do you spend training and practicing each week? What percent of that time do you work on your mental game and mental preparation?
Start by discovering your weakest link within your mental game. Contact us for a quick mental game test. Just return this email to us. Or if you are ready to improve your mental game with one on one coaching, please tell us so.
Related Sports Psychology Articles
---