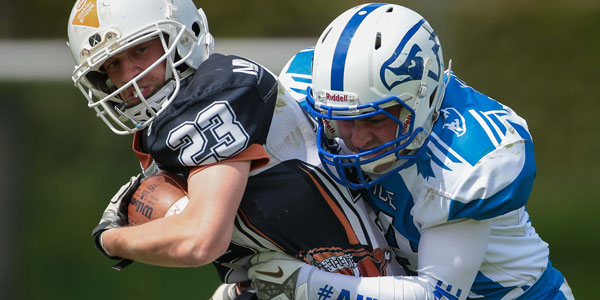 Hard Work for Game Changing Confidence
Are you searching for the secret for game-changing confidence?
The truth is that there is no secret to confidence. However, building confidence is not as difficult as you think.
Too many football players wait for confidence to come to them. Some players hope a compliment from their coach, acknowledgment of a big play in a crucial game situation, or some form of external recognition will lift their confidence.
The misconception is that confidence is something an athlete receives. According to that notion, confidence is passive, or something given to you, like a gift.
However, confidence is built, not passively received. Self-confidence is most effective when it is self-built. One of the impactful methods to build confidence is through preparation.
Preparation encompasses many areas. How you train, how you tend to your mental game, how you ready yourself for competition, etc.
Let's use the following example to examine how preparation affects confidence.
You left for a football game two hours away from your home. When you arrived at the stadium, you realized you had forgotten your cleats. You are mad that you didn't check your equipment bag before you left your house.
The trainer has an extra pair for you to wear but the cleats are a half size too small. You feel uncomfortable and distracted throughout the game. This preparation miscue, for some players, can dramatically hurt their confidence.
Conversely, imagine how confident you would feel if you were in top shape. You conditioned your body better than ever. You felt physically stronger and increased your muscle mass.
You worked hard all year long to refine your technique. You have consulted with a Mental Game Coach from the start of the season and strengthened your mental game. You have improved your ability to control your emotions and have been able to lock in your focus better than ever.
Given this extensive level of preparation, you would be highly confident heading into a football game.
You become more confident when you take an active role in preparing and building your confidence.
High-level preparation is the main focus for the University of Kentucky football team. Kentucky started off the 2021 football season, winning their first four games, including an upset win over the University of Florida and a decisive victory over powerhouse LSU.
Kentucky head coach Mark Stoops credits his team's success to confidence gained through preparation. "We just have had a good quiet confidence about us from the preparation that we are doing."
The more you put into your preparation, the more confidence you build. For that reason, preparation is the single most significant contributor to confidence.
As football coach Vince Lombardi once said, The will to win is not nearly so important as the will to prepare to win.
Developing Winning Confidence
What is the level of your preparation? What do you do well? What areas can you improve? Do you need to add some specific skills to raise your overall level of preparation?
Putting in the hard work and preparation on a daily basis is a game-changer.
---
Related Sports Psychology Articles
*Subscribe to The Sports Psychology Podcast on iTunes
*Subscribe to The Sports Psychology Podcast on Spotify
Download a free sports psychology report to improve your mental game!