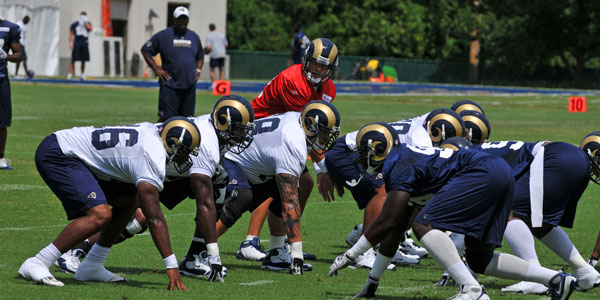 The Importance of Mental Performance Training
Do you make the most of reps you receive in practice? In other words, do you take advantage of each drill or do you go through the motions?
Your mindset is the difference-maker between good and great…
When you treat each drill as a way to improve and prepare, you become a better football player.
The reality is:
Sometimes, practice is hard but so are games.
Sometimes practice is tiring but so are games.
Sometimes practices are frustrating but so are games.
Sometimes it isn't easy to focus in practice, but the same is true during games.
Practices train your body and mind to compete similarly in games, especially during critical moments.
For example, you are on defense trying to stop the opposing team from scoring in the red zone with minutes left in the game, and you are tired and out of breath.
You are frustrated over committing a penalty that continued a drive and allowed the quarterback to march down the field. You feel tremendous pressure to make a play and redeem yourself.
You may not realize, but you trained your body and mind to respond to this situation in practice. How you will respond is a result of how you prepared your mind to act in similar circumstances.
You have heard the phrase, "Practice makes perfect." The phrase is debatable, but the truth is "practice prepares."
Each practice drill is an opportunity to condition your mind to make plays when needed in a game. At the end of practice, each sprint conditions your mind to focus at the end of a game when you are mentally and physically tired.
Taking off 1-2 drills, going half-speed, or not focusing on your assignment in practice affects how you play in games. Those missed opportunities are not insignificant. You should make the most of your reps in practice to condition your mind in the manner you want to compete.
Los Angeles Rams quarterback Matthew Stafford and receiver Cooper Kupp had great production over the first three games of the 2021 NFL season.
In the first three games, the Stafford-Kupp connection has led to 25 receptions for 367 yards and five touchdowns.
The secret to their success is no secret at all. Stafford and Kupp take advantage of every possible training opportunity.
KUPP: "In the short time or OTAs, training camp — we get the most of every rep we have, but also some time between to refresh on and be able to talk through the reps that we don't get to have. What we are seeing and how we would do things and get and add those mental reps to the physical reps that we are doing — you can get a lot done."
Practice provides you with many opportunities to condition your mind and body. The key is to practice the same way you would like to compete on the field.
Improving Focus During Football Practice:
Reps and drills during practice should be viewed as teaching and training tools. Every rep is significant to helping you learn and improve on the next rep.
Always have two objectives that you are working on each practice session. Try to stay focused on your objectives, such as to focus on your keys each rep.
Practice with the same intensity you play with in game. Don't just go through the motions.
---
Related Sports Psychology Articles
*Subscribe to The Sports Psychology Podcast on iTunes
*Subscribe to The Sports Psychology Podcast on Spotify
Download a free sports psychology report to improve your mental game!