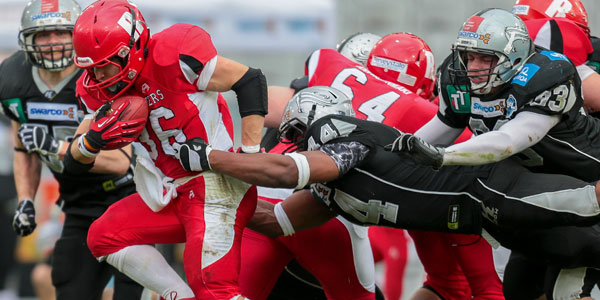 The Best Version of Yourself for the Game
When you are trying out for a football team, are you a nervous wreck? Trying out for a football team can be stressful, especially when you compare yourself to other players on the field.
Comparing yourself to other players is an easy trap to fall into.
The following examples illustrate the comparison trap:
When you think, "He is such a better receiver than I am," you will feel less confident. You might put more pressure on yourself, "I can't drop this ball, I need to be perfect." As a result, you let the pass hit off your chest instead of catching the ball with your hands.
You are excessively nervous and playback on your heels. On the next play, you let the receiver blow past you and catch a touchdown. You are the fifth running back on the depth chart. The coach has told the team he is only taking four running backs on the team.
You know fumbling the ball will hurt your chances to make the team, but you also are aware you need to make impressive long runs. When you try to break tackles to get a few extra yards, you become careless with the ball and fumble several times during several scrimmages.
Focusing on other players or comparing yourself to your teammates is a recipe for under performance.
When you compare yourself to other players, your confidence will drop because you see other players as better than you. This mindset does not allow you to focus on what's important.
Being your best requires believing in your skills, your level of effort, and your ability to improve your skills. In essence, being on top of your game requires you to keep the focus on improving your game.
Undrafted tight end Jack Stoll made the Philadelphia Eagles' 53-man roster despite the odds. Stoll was one of nine rookies to make the team; the other eight players were selected in the draft.
Stoll was confident and focused on being the best player he could be. Stoll wasn't worried about not being drafted or how the other tight ends were performing. Stoll's mindset was to work as hard as he could and take advantage of every opportunity.
STOLL: "I try not to be complacent. I'm just trying to be the best version of myself that I can be. I'm just going out there every day trying to get better, making sure I'm tightening up my game, connecting with everyone, competing. Listen, I've always had the confidence that I'm an NFL-caliber tight end, and it was awesome being able to go out there and prove it."
If you want to improve your chances of making the team or moving up the depth chart, you need to focus on yourself. When you put in the effort to be your best, you will reap significant rewards.
This mindset will keep you focused on growing as an athlete every day.
Being your Best Every Practice
You want to focus on being better than you were yesterday….
What objectives do you have for each practice session. Don't rely on the coaches to tell you what to do. Be proactive and set 2 objectives for each practice.
---
Related Articles: