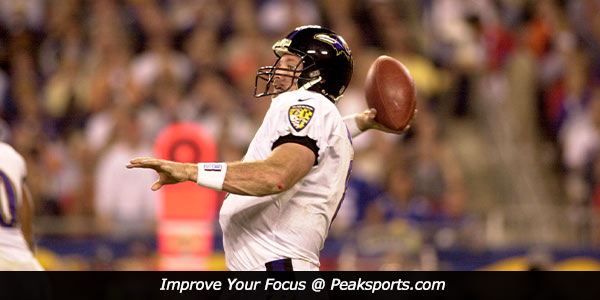 Train Like a Pro Athlete
How well do you perform in playoff games? What is your mindset when you are facing a must-win game to make the playoffs?
When the season comes down to the very last game, a win-and-in scenario, the pressure can cause some athletes to shine and other athletes to choke.
What is the difference-maker for athletes who rise to the occasion?
Competing at a high level under pressure comes down to mindset.
Your mindset is your overall guiding philosophy that directs your thoughts, preparation and actions.
When you fear losing, making mistakes, and falling flat on your face, you have succumbed to a negative mindset. A negative mindset creates images of mistakes, causes you to compete cautiously and focuses on the worst possible scenarios.
On the other hand, you can have a positive mindset that helps you to focus on preparation, attending to the little things that make a big difference and seeing positive images. A positive mindset keeps you immersed while competing and helps you make opportune plays during competitions without overthinking.
Athletes make a major mistake when they see mindset as a game-time decision or something you adopt in the locker room before heading out to the arena.
Mindset is not something you can turn on and off. Your mindset is formed in the preseason and fostered throughout the year.
The Ravens Use a Positive Mindset to Win
For example, the Baltimore Ravens were faced with a win-and-in scenario. If the Ravens won the final game of the 2020-21 season, the team would earn a playoff berth.
Baltimore Ravens head coach John Harbaugh highlighted the team's mentality from the very start of preseason. The Raven's mindset and guiding principle throughout the season was finishing… Finishing every drill, finishing every training session, finishing every scrimmage, and finishing every game with max effort and focus.
HARBAUGH: "Finish games, finish plays, finish practices, finish weightlifting sessions, finish meetings, finish conversations, finish press conferences. It's really just everything. It's every little thing that leads to the bigger picture, like you say, whether it's finishing the season or finishing out all the way."
When you work through the last reps of a drill, you will be able to focus when you are tired late in a competition.
When you finish out a scrimmage with maximum effort, you will have the mental toughness to fight until the last seconds in competitions.
When you fully prepare mentally, you will have the resiliency to overcome adversity.
Every attempt, repetition and action matters. When you finish everything you attempt throughout the season with great energy and focus, you will have that same scratch-and-claw mentality to fight every second throughout a game.
It is true that you control your own fate, and how you finish all comes down to mindset.
How to Create a "Finishing" Mindset:
When you train in practice, you are not only conditioning your body, but you are conditioning your mind as well. You should pay particular attention to how you are training your mind.
To remind yourself to finish hard in all you do in practice and training, ask yourself:
"How do I want to finish this practice?"
"How do I want to finish this training session?"
"How will my effort and focus affect how I finish competitions?"
You are responsible for your mindset, so it is critical to pay attention to the choices you make in your training and preparation.