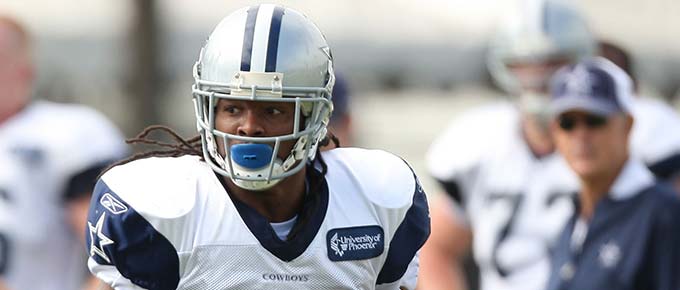 How Football Players Battle From Behind
Have you ever been steam rolled by another football team and felt it just wasn't your day? The offense couldn't get going, the defense couldn't make a stop and special teams were giving up big plays?
Negative thoughts swirled inside your head, such as; "It's not in the cards today. That team is so much better. There is nothing we can do. We just need to focus on next week."
You felt the game was out of your control and the game would ultimately end up as a loss.
These thoughts happen to almost every football player, even if it is just a quick fleeting thought. When you are being dominated by another team, it is difficult to stay focused and motivated.
When you are behind in the score, when do you believe the game is over or a foregone conclusion? At what point do you pack it in because you believe the game is out of reach?
Down 24-0 at halftime? Behind 21-3 with three minutes left in the game and your starting quarterback is sidelined due to injury? Trailing by two touchdowns with 1:30 on the clock?
Do you believe the game is over when the coach takes out some starters in favor of second-string players? Is that a sign from the coach signaling he has given up? At that point, your coach may believe you cannot pull off the win, but it doesn't indicate that he is suggesting that you shouldn't play hard.
You always hear coaches talk about playing until the final whistle. Why? Well, in some cases, there is enough time left on the clock to mount a comeback even if it seems unlikely or when others doubt your chances to pull off the win.
For example, No. 10 Oklahoma University pulled off an improbable win over No.13 Baylor to keep its College Football Playoff hopes alive despite facing a 25-point deficit.
The 34-31 victory was the biggest comeback win in school history and was Baylor's first loss of the season. The win moves Oklahoma's record to 9-1 and keeps the team in the Top-10 of the college football rankings.
Oklahoma quarterback Jalen Hurts, who turned the ball over twice in the first half, described the team's mindset throughout game.
HURTS: "There's always a way. And I think we truly believe that. I know y'all didn't think we were going to come back and win."
Oklahoma corner-back Parnell Motley talked about the team's ability to focus despite the circumstances they faced.
MOTLEY: "Things weren't going our way early in the game, people doubted us, turned their heads and probably turned off the TV. … But we kept our head in the game, we didn't give up, we knew it was a long game and we just kept fighting."
But the comeback is not the only thing you should be fighting for when a game looks out of reach.
The most important reason for competing until the final whistle is conditioning. Not a matter of physical conditioning but mental conditioning.
How you respond to adversity is conditioned, in other words, a habit. Giving up, even when the chance for victory is seemingly impossible, becomes a habit and that habit shapes your response to SIMILAR circumstances in the future.
Even when chances seem bleak, your brain will send a signal to shut it down because that is what you trained your mind to do.
If you want to train your mind to continue to battle, no matter the situation, you must play hard until the final whistle. This mental conditioning will be an asset when you are trailing in a game and victory is still in reach.
How to Play Hard Despite the Score:
Remind yourself that you have a job to do no matter the score. What's one thing you need to focus on to do your job to the best of your ability?
Don't just think about it. Have an internal talk and ask yourself, "What can I do this play to do my job in the best way possible?
Grinding out the game until the final play with build a positive habit that will pay off when you have a chance to mount a comeback in the future!