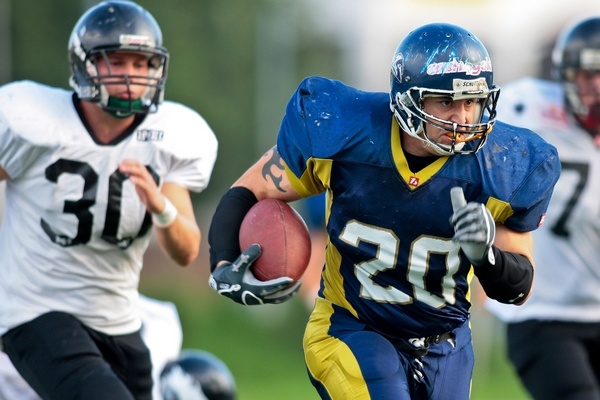 Athlete Who Focus on Statistics vs. Team Goals
How important are personal statistics when you play a football game?
Do you focus primarily on personal statistics (outcomes goals), or do you focus on your assignment on the field during the current play (process goals)?
Your mindset or how you approach a game is as vital as any piece of equipment your wear.
The importance you place on personal statistics or focusing on future outcomes can hurt affect your performance during a game.
Football has plenty of statistics to analyze. Stats are computed for every aspect of the game: passing yards, rushing yards, yards after catch, receptions, interceptions, sacks, tackles, sacks allowed, points scored, field goal percentage, punting average, etc.
The truth is that you don't need to pass for 300 yards, rush for 100 yards or sack the quarterback three times per game to contribute to the team's success.
These statistics are part of the picture but do not account for every contribution to a win. Some positive acts that contribute to a victory do not show up in the stat sheet.
A running back cannot rush for 100 yards without blocking.
A quarterback cannot have a high completion percentage without the running back picking up blitzes.
A defensive lineman cannot make a sack without the secondary covering receivers.
Personal statistics contribute to the overall outcome of a game but are not the sole factors to winning.
If you approach the game focusing on your stats, you will feel more pressure to perform.
When you focus on stats, you will make mental mistakes that cost your team.
For example, if you are focused on your sack statistics but are off your game, you may get frustrated late in the game and be penalized for a late hit on the quarterback.
A slight shift in mindset will make you more valuable to your team. You should always focus on your role in the present moment. In other words, your job is to focus on your job or assignment
Football is a team sport that requires a collective mentality and effort to be victorious.
In Week 1 of the 2021 NFL season, the Dallas Cowboys lost in a quarterback duel to the Tampa Bay Buccaneers, 31-29. Ezekiel Elliott, two-time NFL rushing champion, rushed for only 33 yards on 11 carries.
Instead of rushing statistics, Elliott focused on contributing by protecting the quarterback.
ELLIOTT: "Every play, I'm given a job. It's my job to do that job to the best of my ability. I take a lot of pride in being well-rounded, do a lot of things, and I think it's big or a running back to keep the quarterback safe, keep him untouched."
Team statistics are more important than personal statistics. When you are well-rounded as a football player, you can make a far more significant contribution to the team's overall success.
Be a Top Contributor to the Team's Success
The following three questions can clarify how to best contribute to the success of your team:
What is my role in this game and each play?
How Can I perform my role to the best of my ability? Visualize each play.
What contributions can I make by performing my role to the best of my ability?
Stats, scoring, and outcome of the game distractions you from your real missing during the game!
---
Related Sports Psychology Articles
*Subscribe to The Sports Psychology Podcast on iTunes
*Subscribe to The Sports Psychology Podcast on Spotify
Download a free sports psychology report to improve your mental game!
Learn more about our one-on-one mental game coaching.
---