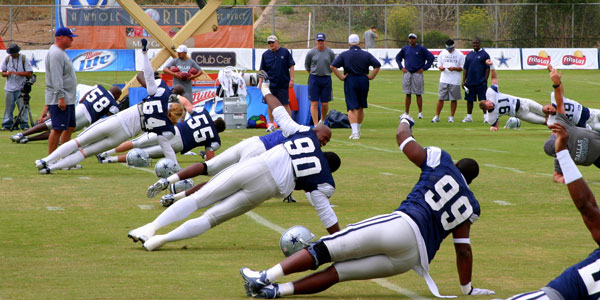 Overcome the Fear of Competition
When you are battling for a position on your team, are you confident and welcome the competition?
So many football players shy away from internal competition. Why? The reason players are hesitant to compete for the same position is fear. The fear of being outplayed sends a negative message to themselves, the coach, and teammates.
However, you cannot predict or stop the thoughts and judgments of others. Other people will think what they think no matter what you do or say.
The only person you should focus on is you. So, the next question is, what does it mean to you if you were beaten out of a starting role?
* Does being outplayed mean you are not good enough?
* Does losing out to a teammate indicate a lack of talent or ability?
* Does being beaten for at a position mean you will never receive any playing time?
The answers to these questions will have a substantial impact on your confidence.For example, if you battle your teammate for the starting quarterback position, your perception of the situation will impact your performance.
If your teammate has been passing for a high completion percentage in several consecutive practices, you might think he is a lock to be the starter. Each practice, you expect to be outplayed.
When you take the practice field, you don't feel confident. In scrimmages, you throw the check down more often. You play it safe instead of taking calculated risks. You feel anxious and find it challenging to make reads.
Focusing becomes an issue and, instead of surveying the field, you telegraph your throws and are intercepted several times. You cannot play loose and free when you are focused on a teammate's performance or if you fear failure.
You should welcome competition. Team competition helps you take your game to the next level. Team competition challenges you to become the best player you can become.
The New York Jets quarterbacks have a battle for playing time between Zach Wilson and Mike White. Wilson was selected with the No. 2 pick of the 2021 NFL Draft by the New York Jets and was named the starter in the preseason. After several regular-season games, Wilson was sidelined with a knee injury.
Enter in the picture, backup Mike White. The Dallas Cowboys selected White in the fifth round of the 2018 NFL Draft. White threw for 405 yards and three touchdowns in a 34–31 upset win over the Bengals in his first career start. After his stunning performance, White became a fan favorite.
However, Wilson sees the battle as beneficial to both White and himself.
"We both understand that I want to play; he wants to play. It's just how it is. So, what's the point of butting heads when we can help each other out? I think we can both benefit from the situation, and so, I really don't feel like there's any reason to even have to talk about it."
Battling and competing improve your mental game. Internal competition gives you the confidence to battle in games and helps take your game to the next level.
Competing Against Teammates
Competing is primarily a mental battle within yourself. To overcome the fear of competition, visualize yourself competing with confidence and focus before practice. Ask yourself, "If this was a regular-season game, what mindset would I choose?"
Embrace competition as a way for you to excel and improve your game. This way you will prepare your best and enjoy healthy competition among your teammates.
Remember, you choose your mindset. Making the right choices gives you an edge in any type of competition.
Related Sports Psychology Articles
*Subscribe to The Sports Psychology Podcast on iTunes
*Subscribe to The Sports Psychology Podcast on Spotify
Download a free sports psychology report to improve your mental game!